How to be a Sort of Successful Software Blogger
Show & Tell - May 25, 2020
Michael Lynch (@deliberatecoder)
Biggest bang for your buck:
Pay for one professional review
You've got lots of blind spots that a professional editor can identify.
A good editor costs $75-150 to review 2,000 words.

Benefits compound for all future writing.

I still work with my editor about once a year for tune-ups.
Picking topics:
start at distribution
Pet shop owner: This little guy writes mysteries under the name JB MacGregor.
Lisa: How can a hamster write mysteries?
Pet shop owner: Well, he gets the ending first, then he works backwards.
-The Simpsons
How will people find my post?

Search
Reddit / Forums
Hacker News
Twitter
Search
Continuous stream of new readers
Relies less on luck than landing a hit on social media
Not as exciting
Reddit (Pros)
Less reliant on luck in my experience

If I have a post that matches the subreddit, it does well.
Reddit (Cons)
Seemingly well-matched subs have many pitfalls

How many subscribers?
Do they accept external links?
Can I submit links to my own blog?
Do blogs like mine ever make it to their front page?

Discussion quality varies by subreddit

Some are filled with armchair experts
Hacker News (Pros)
The startup holy grail!
Huge amount of readers
Intelligent, professional discussion
Causes big names to see and tweet about my posts
Broad range of interests
Hacker News (Cons)
Luck is a huge factor in hitting front page

Some posts get ignored for multiple submissions then hit top spots on the front page

Hard to predict what they'll like
Never been a big source of readers for me
Sometimes my posts do well there after getting exposure on Reddit / HN
The dream: snowball effect

A 10k-follower user RTs, then a 100k-follower, then @BarackObama

Reality: Never happens to me

Probably the exception rather than the rule
This is why I can't blog about blogging
There are forums and social networks for bloggers, but…

They don't accept external links
They don't want people popping in to promote their own posts

Difficult to rank for almost any search term related to blogging
Posts about software / technology are easier to share
Traffic != success
I blog for a few different reasons
Why I blog:
Clarify my thinking
Writing out a post forces me to organize my thoughts
The clarity changes my future behavior and strategy
Why I blog:
Lead people to my products
Why I blog:
Improve SEO for my products
mtlynch.io
Any project I start has a decent backlink out of the gate
Why I blog:
Establish credibility
I get good response on cold emails
I think it's because my email signature includes my blog

Not a random, faceless stranger
Why I blog:
Vanity
If I'm being honest
Fun to have people discuss my work
Nice to get feedback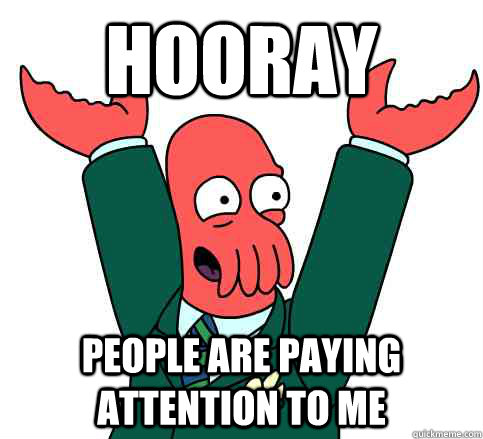 Unique pageviews:

First week: 339k
First year: 449k

Why it did well

People are interested in Google
People related to frustration with corp bureaucracy
Story with a beginning, middle, and end
Unique pageviews:

First week: 62k
First year: 123k

Why it did well

Taught a skill that's widely useful
Different angle from most articles on the topic
Unique pageviews:

First week: 923
First year: 75k

Why it did well

Approaches building homelab PC as a beginner
Easier for the reader to follow along than similar articles
Commonalities of the hits
Tell an engaging or fun story
Teach something broadly useful
Repackage existing ideas in a way people enjoy
Topics matches social media channels that accept external links
Posts that performed poorly
Note: The majority of pageviews come from visitors who arrived at my blog from another article.
Synopsis: Forcing cloud storage backends onto legacy apps.
Unique pageviews:

First week: 300
First year: 1.6k

Why it performed poorly

Topic is overly narrow
People would never find it via search
Unique pageviews:

First week: 274
First year: 5.9k

Why it performed poorly

Blogging about blogging is too oversaturated for search
No viable social media channels to share it
Synopsis: Why I gave up on Is It Keto
Unique pageviews:

First week: 586
First year: 3k

Why it performed poorly

Social: Not exciting to read about failure unless it's spectacular
Search: Wouldn't rank for any useful queries
Commonalities of flops
Teach something overly specific
No social media channel that will accept them
No path to discovery through search
Title is not self-explanatory
Tracking article ideas
When I get new ideas, I write a title and shortform notes
I reorder the list based on what I'm most interested in writing
Topics can spend years in my queue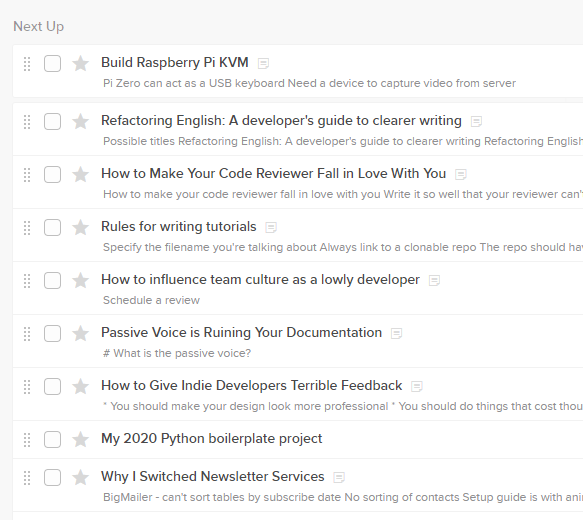 How I rank ideas
How excited am I to write this?
Do I have something unique to contribute?
Is there an audience interested in the topic?
Do I have a viable a channel to reach that audience?
Writing my first drafts
Just get all my ideas onto the page
Add headings if I can think of them, but don't worry about structure
Just keep writing continuously and don't stop to look anything up

I put TODOs in places where I want to add a link, look something up, or add an image.
Editing
Takes the longest time and is the most mentally taxing
Good writing crystallizes ideas, explains them clearly and succinctly
What it looks like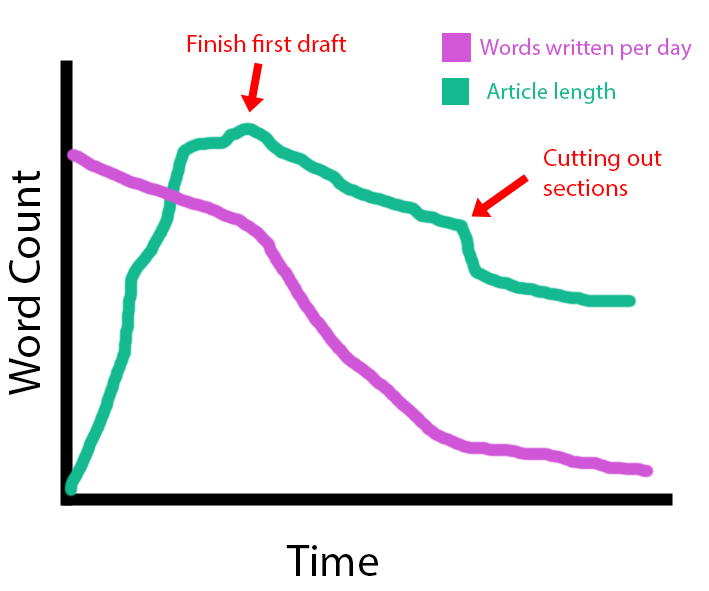 Why so much time editing?
Results are not linear with effort
10-100x difference being on front page of Google/Reddit/HN

Another 5-10x difference being in the #1 spot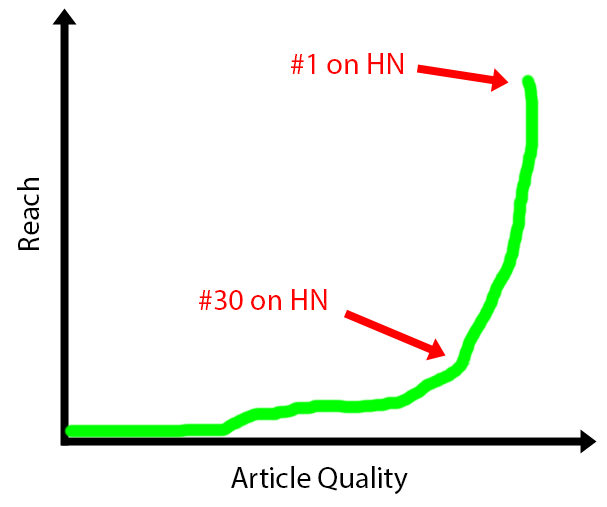 The hook: why should people read it?
This is the most common mistake I see.

Bloggers assume people have infinite patience to read their post and find the value.
The hook: why should people read it?
Establish in the first few sentences:

What is this post about?
What value will they gain by reading it?
You have two or three sentences to hook them. A paragraph if you're lucky.
-My editor
Original artwork:
criminally underused
Immediately makes your post stand out
Costs $20-60/image

Depends on artist and level of detail

Make a cover image that's 1.91:1 aspect ratio

Displays nicely in Twitter, Facebook, and (sort of) Reddit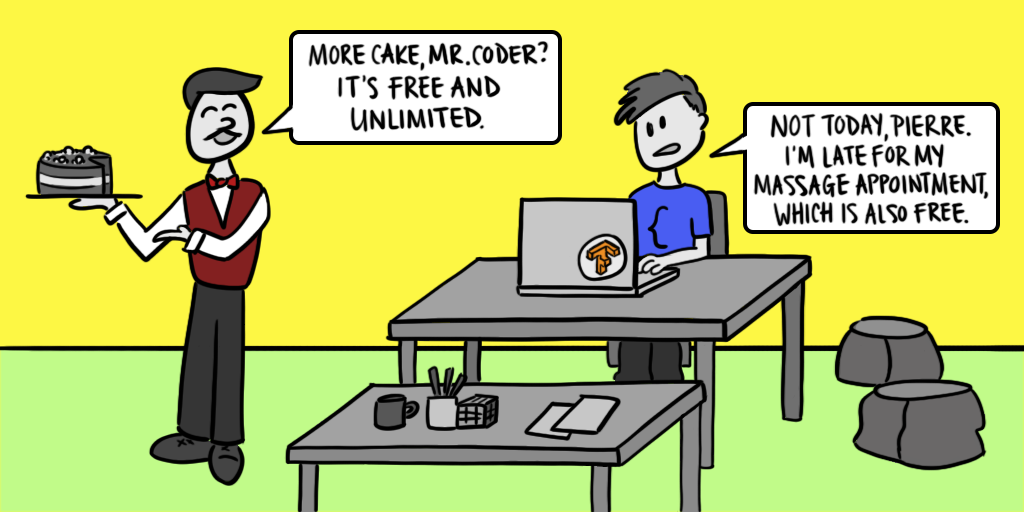 More details: How to Hire a Cartoonist to Make Your Blog Less Boring
How hard is it to broaden accessibility?
Small changes often make my posts accessible to a much broader audience.
I stored the files on S3.
vs.
I stored the files on S3, Amazon's cloud storage service.
Read your post aloud
You catch so many more errors this way
Run your post through a grammar checker / spell checker

Grammarly's good, not great
Don't blindly trust your grammar checker
Questions?
I love talking about this, so feel free to ask me after too.